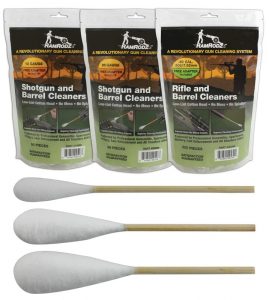 New Rifle and Shotgun Sized RamRodz® 
Specially Engineered to be Caliber-Specific for Cleaning Rifles and Shotguns
Woodstock, NY (November 19, 2015) – RamRodz® Incorporated announces New Rifle and Shotgun sized RamRodz®.There are three new sizes available: .30/.308/7.62mm, 12 and 20 gauge. RamRodz® offers  caliber-specific, low-lint,  industrial-grade and highly absorbent cotton heads  that are designed to quickly and easily clean barrels, slides, receivers, chambers, magazine housings, breeches and more. RamRodz® will not drip or splatter and eliminates the need for old-style patches. Preferred by professional gunsmiths and shooters alike, RamRodz® is a truly revolutionary product that elevates gun cleaning to a new and higher standard not achievable by old methods! Each bag of Rifle and Shotgun sized RamRodz® comes with a FREE ADAPTER that allows you to attach the 3″ flexible bamboo handle to a standard cleaning rod. With RamRodz®, you can now enjoy gun cleaning without the hassle or the mess in a fraction of the time.